LA PRIMERA RESIDENCIA DE ITINERA Hola amigos de Itínera Teatro, después de haberles contado cómo ha sido construido este proyecto de Residencias Artísticas, queremos
Lire la suite »
A Theater on the Beach...
an article about itínera's project
Having completed the Earthship Academy, I set out to find construction projects to participate in, and at the same time gain more practical experience in building these awesome structures. This is really not that difficult, since the company itself regularly organizes armies of enthusiastic volunteers for these company builds. They don't mind traveling great distances, living under very spartan conditions, and often even pay for the privilege of doing the grunt-work, such as mixing concrete and pushing it up the hill in wheelbarrows.
Not to discredit the keen effort of these eager beavers, but what I have found is that I tend to have more fun, make a greater difference, and be confronted with more educational experiences (that is problems to solve) by volunteering at private builds, usually for people I met at the academy. So far I have participated at three of these builds, but I'm sure there are more on the horizon. One of the obvious criteria is location, so when I heard that there was going to be a build right here in Mexico, I had to check it out. As it turns out, it is located in one of the best places in Mexico.
To many travelers who have backpacked through Mexico the name Mazunte may ring a bell. It is located on the Pacific coast of the state of Oaxaca, and despite its village size of around a thousand inhabitants, it is a touristic hot-spot, especially among the more relaxed, alternative, hippie-type travelers. Though Mazunte is pretty easy to find, even on a globe, or a stylized, low resolution map: it is located where the gradually descending west coast suddenly turns northwards again. This point, called Punta Cometa, offers an equally impressive view of the sunrise AND the sunset, and is litterally 
just a few minutes walk from a gorgeous bay and a low-key little town, complete with all sorts of amenities for travelers, especially with health and artistic interests. There are centers for yoga and meditation, many of the cafes offer interesting dishes from the area and from around the world, and the town features an annual jazz festival, and a circus festival. I don't know which other Mexican town of a similar size could claim to offer all this. So it was not a surprise when I heard that my friends decided to build a theater in this place, of course following Earthship principles.
The group is called Itínera, and is an international bunch from Colombia, Italy, and France, with deep connections to many other places, including Mexico. Two key figures from this group I'd gotten to know at our academy session in Taos: Stephane from France, a well experienced permaculturist and natural builder, and Valeria from Italy, an architect specialized in natural building, who is officially in charge of designing the theater building. The other two key members, Julia from Italy, and Manuel from Colombia I got to know in connection with the build. They are both at home in the world of performing arts, and apart from that they are both amazing people.
It was March 2016 when I first went to Mazunte for some tire pounding. Stef and Julia had arrived a few weeks previously, bought the property, and started erecting basic survival structures, such as a composting toilet and a solar shower. By the time I arrived, together with Valeria, Julia's parents had just arrived as well, for a working-holiday of sorts. Later on we got help from some local neighbors, as well as another friend of ours from the academy, Ryan, who came to visit us from Canada. We all got along famously, freely mixing the languages of Spanish, Italian, French, English, and German (leaving out Hungarian and Portuguese, just so we wouldn't get confused).
The structure we first started building was not the main one, which at that time hadn't even been designed yet, but a multipurpose "garage". Though its main function is storage, including storing a full-sized US school bus (more on that later), it is supposed to be much more than that: It should provide sufficient light and ventilation to be comfortably used as a classroom. The temperature inside should always be a bit cooler than outside, with a nice airflow, and it should protect from the elements, mainly the rain, which it is supposed to capture, as it's expected from any respectable Earthship.
Of course, due to its sub-tropical setting, heating is never an issue as much as cooling, so the typical East-West shape with its slanted, south-facing windows is not the best design for this building. Instead, it is round, tall, and the only window is north-facing, merely for light. The cooling is convection driven, aided by three cooling tubes passing through the tire walls and the thick berm behind it. A vent in the roof will let the heated air escape, drawing cooler air from the tubes. The roof itself is an interesting feature, being fully reciprocal, where the beams all support each other in a circle. Above this, a vapor barrier with layers of gravel, sand, and soil on top is going to provide a living (green) roof with water catchment / filtration capabilities.
All these wonderful ideas poured out of Valeria's pencil during the evening hours under the mosquito-net of the dining-table. But before we could get to the roof, we had to complete the walls, meaning pounding tires, pounding more tires, and backfilling… lots and lots of backfilling. Having spent eight weeks doing mostly that at the build of another friend from the academy in Colorado, I felt I was quite good at tires. Still, the weather in Mazunte added an extra bit of difficulty. By 9:00 a.m. it was already pretty hot, and completing the second course after 2:00 p.m. merely being in the sun felt deadly, not to mention doing any work. Nevertheless, we soldiered through, at least during the mornings. Using our experiences of the previous days, and our estimation of what needed to be done, we calculated that ten tires should be a reasonable goal for the day in total (in Colorado I did that many by myself in a day), a goal we proudly achieved!
Needless to say, we were confronted by many unexpected obstacles, from out-of season thunderstorms to shortage of material. Yes, the local garbage dump had given "just before we showed up" thousands of tires to the Mexican cement company so they could burn them in their kilns and produce cement. What an irony in the management of building material! But the one thing that gave us more trouble than any other thing was the truck "Shaman," known for its unreliability, which made you wonder whether a shaman might not be more useful in fixing all its problems.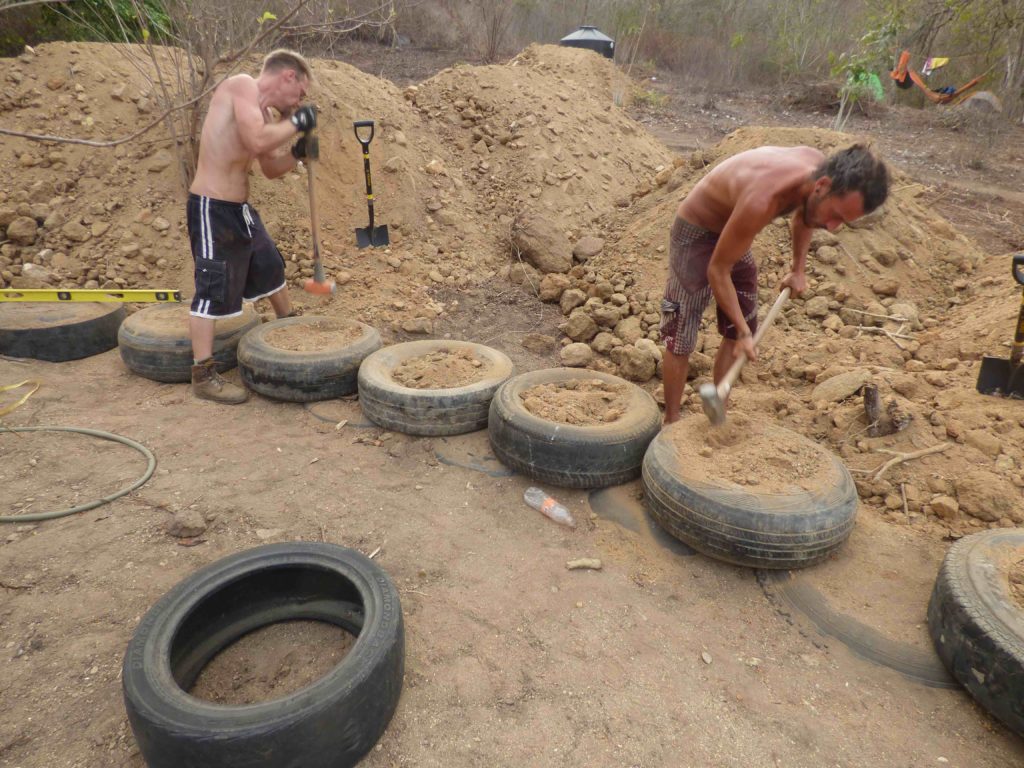 Originally from Canada, it was brought down to Mexico, and Stef purchased it in Mexico City, from where he managed to drive it down to Mazunte. An amazing feat, considering how frequently it would come down with all types of problems: the starter, the transmission, the radiator, the brakes, the battery… there was no part that wasn't affected at some point by something. But we took all this with a good amount of Mexican laid-backness, and continued using the tires that we had at our disposal.
Soon the first few courses were completed, and we came to the point of installing the cooling tubes. Some concreting was called for, and more importantly, the concrete had to be kept from spilling out somehow. We'd learned that lath is the ideal material for this, but since it is so hard to come by, or in any case it would cost an arm and a leg, we had to improvise. Remembering the word 'glom' used by earthshippers to refer to the tacking together of all types of random material, we took the idea and raised it to the Mexican level. In the end it worked, the concrete set, and the cooling tubes were fixed in their place. Quickly we added another course of tires on top, to make it even firmer. Though that is about as far as we got.
Six courses of tires (the first one being underground) is what we looked back at so proudly, when we said goodbye to friends and family, as they departed one by one. Stef and I remained to complete the final tasks of cleaning up the camp, hiding the unused tires, and covering up our half-completed structure to protect it from the rain. Hiding the tires… sure, easier said than done. Many of them we put right into the berm, where a generous layer of dirt would hide it from curious eyes. But there were just too many… too many of the correct size, too! So what could we do? Complete an additional course, of course. And we did! We worked hard all day, in the sweltering heat, but we did it! Since that day I can't stop talking about the boundless power that can be unleashed by the sheer urgency of having to complete it NOW.
Once we left, the property looked almost as abandoned as when we arrived. The exposed tires of the structure were covered by a long tarp, protecting it from the coming rainy season. All the other features, including the kitchen with all its facilities we packed onto the back of Shaman, and parked it on a friend's property. We wouldn't be back for the rest of the year.
Imagine seeing at our return the transformation of the site into a thicket of tall grasses, bushes, and other kinds of dense vegetation! Even the bushes we had to cut down because they were growing right in the middle of the building had returned to their previous size. Indeed, mother nature doesn't stop either.
Unfortunately, there are some bureaucratic hurdles to pass before the work can continue, so for the time being the heavy plant growth is not bothering anyone.
Also, our architect Valeria is going to be working with Mike Reynolds, father of Earthships, on the official plans of the main theater building. So even though it may seem like things have stalled, there is a lot of progress going on. After all, all good things need their fair amount of time. But in a few years, I can almost guarantee that Mazune is going to have a well operating theater, complete with an awesome building, and probably even a theater festival to match the jazz and circus ones. Until then, check out their promotional video!